Title:
Around the Riverbank
Recipient:
emi_lem
Request:
ah just anything sweet, maybe revolving around them just
finishing a long meeting in london and then going on a walk down south
bank (which is very lovely all lit-up at night!)
Characters:
There's a reason why...well, FRUK.
Rating:
PG-13
Warnings:
Can't tell you bb, it's a surprise.
Notes:
idem.
Okay, I like this prompt and what do you know? I just got a new pen I've never use for drawing purpose before! So, I'm trying to experiment with the pen since I thought it will be perfect tool for drawing this prompt and....
Voila!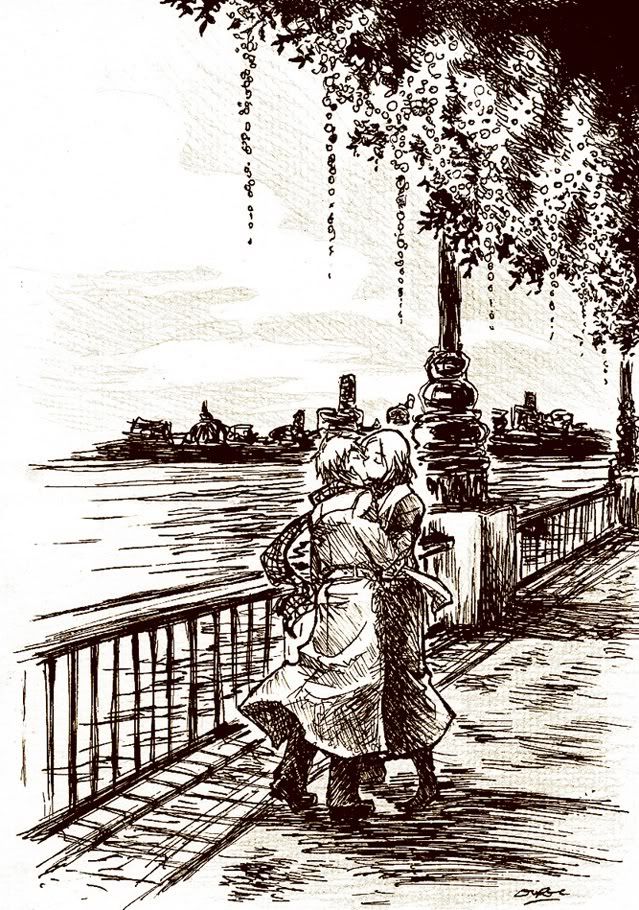 a;asldjsd;f it's not anything like the real South-Bank at all! I'm in despair.... orz and it seems like they just finished a long meeting in 50's too. Ahah.
But anyway, it was a nice experiment and I'm really enjoying it when making this two being romantic like that around the riverbank. I hope you're enjoying this as well dear recipient, and please forgive me for making your prompt as an experiment for some new (uh, I guess) skill. m(- -)m
Happy New Year, bb!
Also, this happens to be my first post in this comm too, ahaha.